Why is Ann Arbor Cool? Here are a few reasons I've collected from friends and colleagues since moving to the area.
For the more obnoxious version, click here.
---
Things to Do in Ann Arbor!
Images of Ann Arbor life outside the office.
The Ann Arbor wiki documents the countless stream of interesting things to do in the city. Don't believe us, see what is happening today or this weekend.
Where would you like to move? Ann Arbor, of course.
School spirit at U-M is amazing, which is probably why alums love Ann Arbor so much.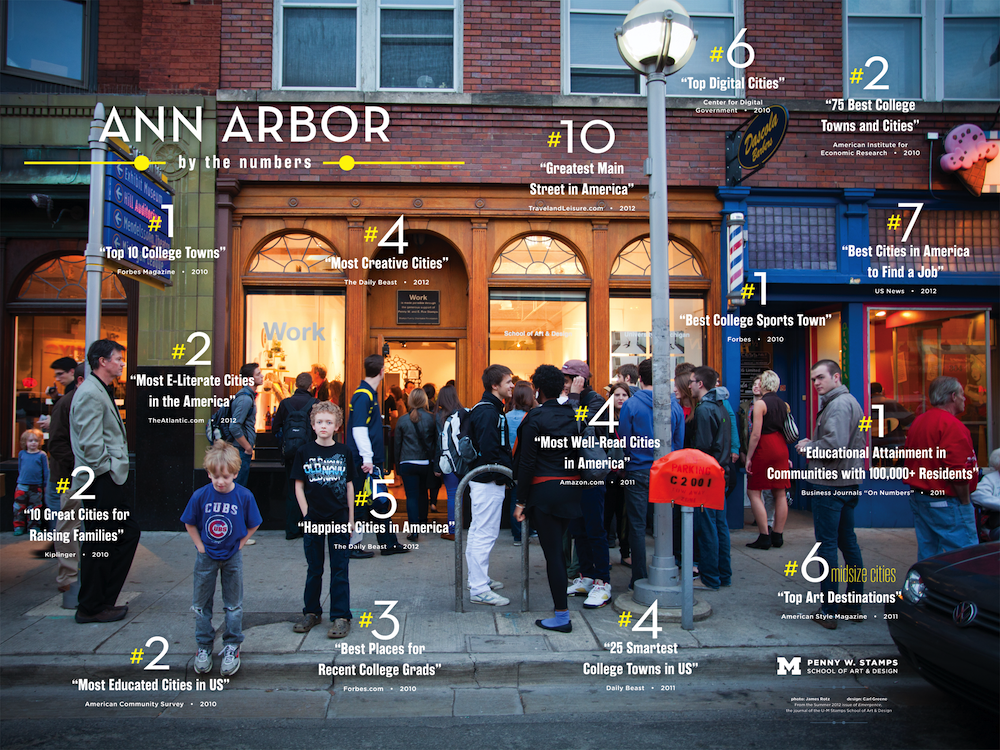 http://art-design.umich.edu/images/Ann-Arbor-Carl-Greene-poster.jpg
[Original Photo: James Rotz. Design: Carl Greene. From the Summer 2012 issue of Emergence, the journal of the University of Michigan Stamps School of Art & Design.]
The Arts and Recreation:
The Ark for musical events
12 reasons to move to Ann Arbor
UM School of Music, Theatre, & Dance performances and events
Ann Arbor Art Fair (and http://www.artfair.org/)
University of Michigan Museum of Art
The acoustics at Hill Auditorium are among the best in the world. Great for classical music. It regularly hosts world-class musical groups, for example the San Francisco Orchestra, Joshua Bell, and Audra McDonald are already on the schedule.
Cross-country skiing (skating or classic) -- during the winter the local golf courses become free cross-country skiing parks! The UM Arboretum is another opportunity to XC ski on campus.
U-M alums are sooo close to finishing $1,000,000 in fund raising for the Ann Arbor skate park.
The City of Ann Arbor has more than 157 parks & 2,000 plus acres of park land. We have a dirt bike jump course, 2 disc golf courses, 2 dog parks. You can canoe, kayak, swim and row on the fantastic Huron River.
The university itself has two golf courses. Radrick Farms. U-M golf course.
For those who prefer indoor recreational activities, there are several fitness centers ranging from the U-M rec center near the BBB building to nearby private gyms or YMCA to full-service fitness centers complete with saunas, salt water pools, and fitness classes.
You might also check www.arborweb.com to see what's going on in town.
Ann Arbor Festifools (http://festifools.org/)
Ann Arbor Summer Concert Series (http://annarbor.com/summerconcerts/)
UM Athletics Events (http://www.mgoblue.com/tickets/gmw-index.html)
The Great Lakes. For example, check out Sleeping Bear Dunes National Lakeshore on Lake Michigan near Glen Arbor, MI, a favorite vacation destination for many Michiganders.
Pacific Rim has contemporary pan-Asian cuisine
Ayse's Turkish Cafe has delicious home-style meals a short walk from BBB
Cafe Marie (Chuck & John Vest endowed a chair; see if you can find it)
Jolly Pumpkin, way better than zingerman's.
Exotic Cuisine & Bakeries -Syrian (Middle East) Specialties
Frita Batidos (you could write 5 papers with the energy from one meal)
Le Dog looks like a Berkeley-esque Top Dog, but order the lobster bisque instead
Mark's Mid-Town Coney Island when hankering for hot dogs. Operative word: cheap.
Zamaan Cafe has a delicious meat shwarma
Umi Sushi is a relaxing place for raw fish and noodle soup
Be Won is a popular Korean restaurant with all the yummy side dishes. Koreans go here.
Knight's Steakhouse, where the cocktails are served in 14oz rocks glasses
Mani, one of the hip new places in town
The Grange, farm-to-table style dishes from the local food scene
The Ann Arbor Farmers Market, the center of a vibrant local food scene
Raise your own chickens! Backyard chickens are recent addition to Ann Arbor.
Many Middle-Eastern restaurants. Southeast Michigan has the largest population of Arab-Americans in the US, and there are many speciality restaurants.
Brewpubs:
Arbor Brewing Company (the sacred cow IPA is really good)
Kids:
Ann Arbor has some of the best public schools in the nation.
Ann Arbor schools named one of best communities for music education.
Abundant high quality infant and child day care. Read the Arbor Parents Yahoo group. FAQ.
157 city parks totalling over 2000 acres. Most homes are within walking distance of many parks with swing sets and the like. Just a great place to have young kids.
Ann Arbor Hands On Museum (for kids of all ages). Packet-switching network demo!
University of Michigan Museum of Natural History (known by many local kids as "the dinosaur
museum")
45 minutes from the Cranbrook Institute of Science
There's a fantastic nonprofit called Inside Detroit that runs tours throughout downtown.
45 minutes from the excellent Detroit Zoo, and an hour from the excellent Toledo Zoo.
40 minutes from the Henry Ford Museum and Greenfield Village.
40 minutes from the Arab American National Museum (well worth a visit for both kids and adults, regardless of whether you are an Arab American)
Blinkenlights. I'm just sayin'
Ann Arbor Accolades:
20 Best Summer Vacation Destinations - Frommer's, 2012 list
Best-read Cities (No. 4) - Amazon, 2012
Best Digital City (No. 1) for use of technology to create a seamless environment between government and citizens - eRepublic's Center for Digital Government and Digital Communities Magazine, 2012
America's Greatest Main Streets Recognition (South Main Street) - Travel + Leisure Magazine
Top 10 U.S. Cities for Well Being (No. 3) - U.S. News & World Report, 2012
Smartest Big Cities (No. 1) - Bizjournals.com, 2011 list
Premier 100 IT Leaders (Information Technology Services Unit Manager Dan Rainey) - Computerworld 2011 list
Research, Academics, Scholarship:
Top-ten departments across all the engineering disciplines (and most others).
Internship fellowship program for PhD and masters students (read: perk$) plus plenty of external fellowship opportunities. For instance, Michigan is part of the Intel PhD fellowship program that is available to only a handful of schools with several top ranked departments in engineering.
Oodles of best paper awards as well as awards for students, faculty, and staff.
Top ranked graduate and undergraduate programs!
The fabulous Bob and Betty Beyster Building and the bubbler.
Michigan CSE has the most awesome group of junior faculty on the planet, to be completely humble. Jacob Abernethy (machine learning, UC Berkeley), Eytan Adar (temporal informatics, Univ. Washington), Mike Cafarella (databases, Univ. Washington), Prabal Dutta (low-power embedded systems, UC Berkeley), Georg Essl (music, human computer interaction, Princeton), Ryan Eustice (perceptual robotics, MIT), Yuanfang Guan (computational biology & bioinformatics, Princeton), J. Alex Halderman (security & privacy, Princeton), Honglak Lee (machine learning, Stanford), Qiaozhu Mei (information retrieval & text mining, Illinois), Emily Mower Provost (human-centered computing, USC), Satish Narayanasamy (computer architecture, UCSD), Long Nguyen (statistics, UC Berkeley), Edwin Olson (robotics, MIT), Grant Schoenebeck (theory of computation, UC Berkeley), Zeeshan Syed (machine learning, signal processing, medical/health, MIT), Ambuj Tewari (statistics, UC Berkeley), Thomas Wenisch (computer architecture, CMU), Shuhen Zhou (statistics, CMU).
Faculty distinctions at the U-M College of Engineering include 73 endowed and named professorships, 28 National Academy of Engineering members, 3 National Academy of Sciences members, 2 National Medal of Science recipients, 1 National Medal of Technology recipient, 7 Presidential Early Career Award for Scientists and Engineers (PECASE) recipients, 89 NSF CAREER awards.
Strong research ties to the U-M Medical Campus, a Level-1 Trauma center with the highly ranked Cardiovascular Center and Mott Children's Hospital. Several CSE faculty collaborate with U-M physicians on computing research.
MCubed provides funding for high-risk, interdisciplinary research via a $15M investment [news]
Extremely engaged U-M alumni who support the university with philanthropy and giving.
Sharks! Drones! Building Hackers! Internet Voting Hackers! Undergrad Hackers!
Synthetic cadaver with a working circulatory system and vital organs for in vivo RF testing.
Celebrated alumni of program
The university celebrates our family of distinguished alums. A sampling of alums:
Fran Allen - Turing Award, theory and practice of optimizing compiler techniques
Steven Cook - Turing Award, contributions to complexity theory
Ted Codd - Started the field of relational databases
Dick Costolo - CEO of Twitter
Tony Fadell - Invented the iPod, founded Nest
John Holland - MacArthur Fellow, genetic algorithms
Bill Joy - Co-founder of Sun Microsystems
Tom Knoll - Co-creator of Photoshop with his brother John, Dreamworks, Oscars.
Larry Page - Co-founder of Google
Niels Provos - The Google Safe Browsing service
Claude Shannon - Founder of information theory
Business:
TechBrewery incubator
TechArb is an incubator for student entrepreneurship
Entrepreneurship at Arbor Networks
Wide variety of employers within the city limits, and even more a few miles away
An airport at DTW where you don't need to make connections. Oh, snap! Monorail! Monorail!
Maker Works - 11,000 sq ft of workshop/prototyping space.
Trivia:
The coolest thing about Ann Arbor is that Trevor has been here since 1977 and clearly could have moved elsewhere but did not. That's 36 years of longevity.
We're like best friends with U-M alum Madonna who is an avid Python programmer. She prefers Git over SVN. Her 1989 hit song Like a Prayer is actually a personification of her experiences with Valgrind and LLVM at the midnight deadline before submitting her EECS 281 homework. (This is actually not true, but she did start at U-M. And she's more of a GCC user than LLVM.)