ICE at GT
ICE is the Institute for Computing Education. ICE is a partnership between the Georgia Department of Education and the College of Computing at Georgia Tech. This partnership was announced in June 2004 by Kathy Cox Georgia's State Superintendent of Schools and Dean Richard DeMillo of the College of Computing at Georgia Tech.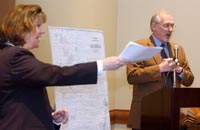 The goals for ICE are to increase the number of qualified computing teachers in Georgia (especially CS-AP teachers) and to increase the number and diversity of computing students in Georgia.

To contact ICE Programs, please email us at gatech.ice@gmail.com



Practice AP Exams: Students can take anonymous exams at http://ice.cc.gatech.edu/apexam_final/. Students with logins can also login and take exams and review previosly taken exams. Teachers with logins can also login and can create logins for their students. Teachers can create new quesitons for the database. For information on how to create a teacher login e-mail ericson@cc.gatech.edu.

Older pages:

Want to just play around with the CoWeb? Try the Sandbox.