Jason Naile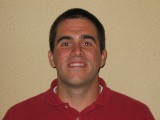 Jason Naile
Class Web Page

I teach five different courses at Parkview High School in Gwinnett County:

AP Computer Science
WebPage Design
Advanced Web Page Design
Computer Programming I (Visual Basic)
Computer Programming II (Java)


I also coach Boys Tennis. I am proud supporter of the Unviersity of Georgia. Even though this is a Georgia Tech webpage I must say it. "Go Dawgs!"