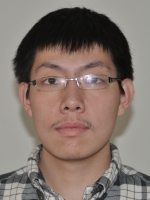 Yu Sui: Undergraduate student (2011-2012)
Email: sui@umich.edu

Biography
Yu Sui is currently a senior student at the University of Michigan. He is majoring in Electrical Engineering with a concentration in Circuits and Microsystems area. He is currently working on characterizing carbon nanotube polymer composites for infrared sensing.

Publications
M. Rais-Zadeh, V. J. Gokhale, and S. Yu, "Novel uncooled detector based on gallium nitride micromechanical resonators," Proceedings of SPIE: Infrared Technology and Applications , Baltimore, MD, 2012.