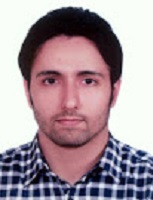 Mohsen Jafari
Email: jafarim@umich.edu
Office: 2338 EECS
Telephone: 734-647-1782

Biography
Mohsen Jafari received his B.S. and M.S. degrees in Electrical Engineering along with a B.S. in Management from University of Tehran, Tehran in 2011, 2013 and 2012 respectively. Currently, he is working toward his Ph.D. in the Resonant MEMS group at the University of Michigan. His research interests include optical MEMS/NEMS, interface circuit design for MEMS, plasmonics, phase change materials and shutters.

Publications
1. M. Raieszadeh and M. Jafari, "Phase change optical modulators and shutters," Provisional patent Filed 1 Dec 2014.

2. M. Jafari and M. Rais-Zadeh, "A 1550 nm phase change electro-optical shutter," IEEE MEMS Conference (MEMS'16), Shanghai, China, Jan. 2016, pp. 655-658.

3. M. Jafari and M. Rais-Zadeh, "Zero-static-power phase-change optical modulator," Optics Letters, vol. 41, issue 6, pp.1177-1180, 2016.