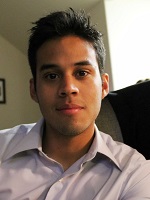 Cesar Figueroa: Master Student (2013-2015)
Email: cafiguer@umich.edu

Biography
Cesar Figueroa, originally from Colombia, received his B.S. degree in 2013 from the University of Houston in Electrical Engineering with a minor in Nano Engineering. He pursued his M.S. degree in Electrical Engineering at the University of Michigan, Ann Arbor and graduated in 2015.