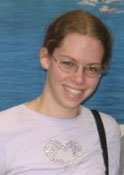 Gwendolyn Hummel: Undergraduate NNIN student (2012)
Email: gwendolyn.hummel@hotmail.com

Biography
Gwendolyn Hummel is a student at the Illinois Institute of Technology in Chicago, Illinois. Her major is Electrical Engineering and she has completed three years of study. During the summer of 2011, she was working at the University of Duisburg-Essen through the DAAD RISE program. Currently, she is a summer student intern at the Resonant MEMS group, University of Michigan, through the NSF NNIN program. She is involved with a project on phase change switches.

Publications
Y. Shim, G. Hummel, and M. Rais-Zadeh, "RF switches using phase change materials," IEEE International Conference on Microelectromechanical Systems (MEMS'13), Taipei, Taiwan, pp. 237-240, Jan, 2013.