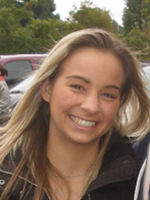 Natalie Swider: Undergraduate NNIN student (2010)
Email: natalieswider@gmail.com

Biography
Natalie Swider is currently a senior at the University of Illinois in Urbana-Champaign. She is majoring in Material Science and Engineering with a biomaterials concentration. In the Summer 2010, Natalie attended the NNIN REU program at the University of Michigan in Ann Arbor and fully characterized silver electroplating and polishing processes for the implementation of low loss radio frequency inductors.