Current students and postdocs | Former students | Prospective students
---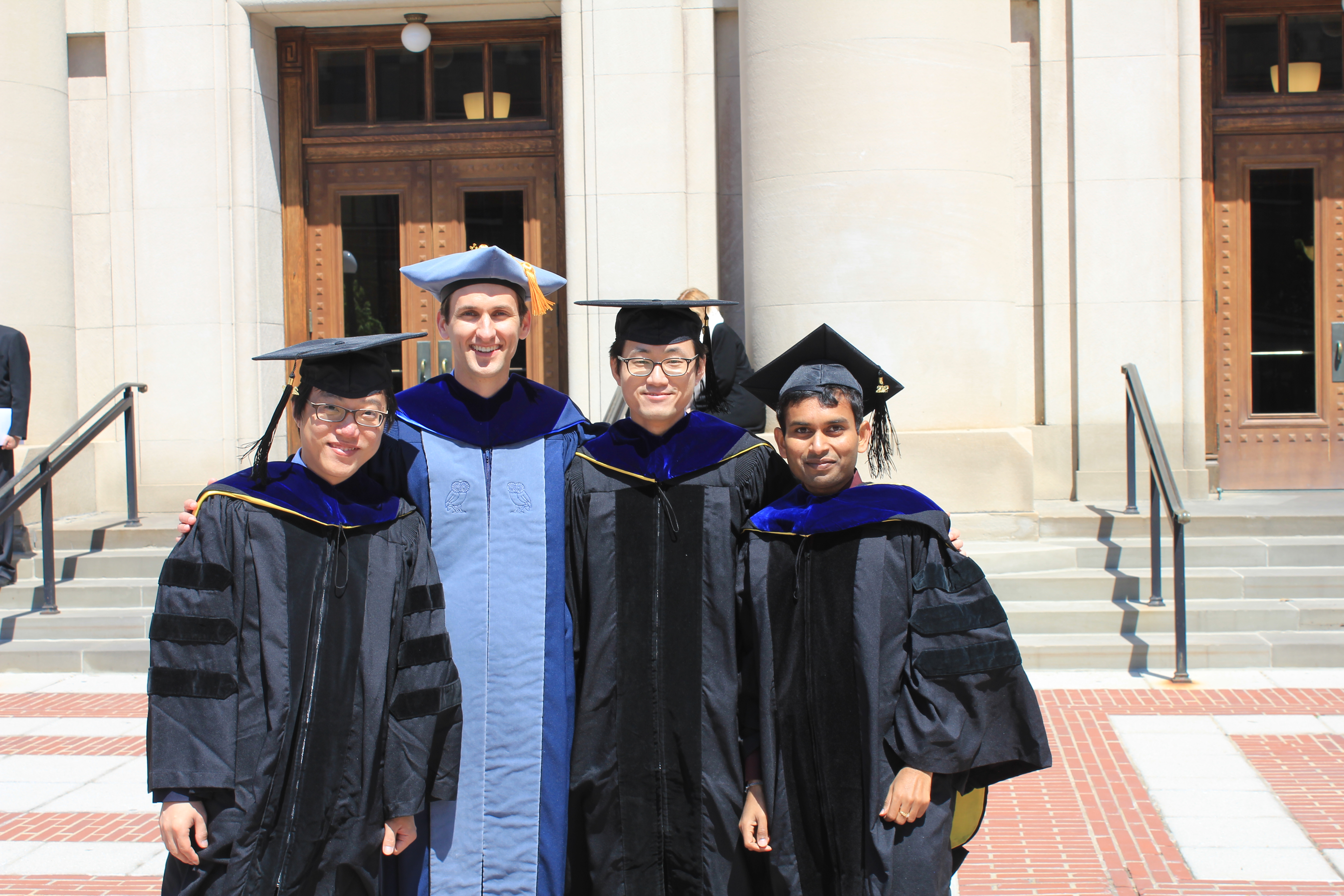 Commencement 2012

Hossein Keshavarz, PhD student (co-advised with Long Nguyen)
Efren Cruz Cortes, PhD student
Aniket Deshmukh, PhD student
Julian Katz-Samuels, PhD student
Yutong Wang, PhD student
Robert Vandermeulen, PhD 2016 -> postdoc at Humbolt University, Berlin.
Harish Ramaswamy, visiting student/postdoc 2015 (jointly mentored with Ambuj Tewari) -> MSR India.
Takanori Watanabe, PhD 2014 (co-advised with Chandra Sripada) -> postdoc at UPenn.
Joyce Liu, PhD 2013 (co-advised with Al Hero) -> postdoc at Berkeley, now at UPenn.
Gowtham Bellala, PhD 2011 -> HP Labs.
JooSeuk Kim, PhD 2011 -> Samsung.
Gyemin Lee, PhD 2011 -> postdoc in CSE at Michigan, now Assistant Professor, Seoul National University of Science and Technology (SeoulTech).
Greg Handy, MS 2013 -> Univ. Utah
Benjamin Schwartz, MS 2012 -> Qualcomm.
Tyler Sanderson, MS 2012 -> Google.
If (and only if) you are a current UM undergraduate student interested in machine learning and pattern recognition, and if you enjoy and have strong skills in mathematics (probability and linear algebra are most relevant), please contact me about directed research during the semester or summer. Please give your email the subject "UM Undergrad Interested in Statistical Machine Learning."
If you are a prospective Ph.D. student who is interested in working with me, please read the following.
I look for students with strong interest and ability in developing novel machine learning algorithms and proving theoretical guarantees for such algorithms. My students typically study and apply advanced linear algebra, multivariate statistics, convex optimization, measure-theoretic probability, functional analysis, and various other topics in pure and applied mathematics. My students can also expect to gain experience working with real-world data in the context of a particular application.
Before emailing me, you should have submitted a complete application to the ECE program (although I would also consider strong candidates who have applied to other programs such as Statistics or CSE).
Please do not email me if you have not already applied to Michigan. In your email, please indicate to which progam you have applied (e.g., ECE, CSE, Statistics), and also please explain why you are interested in machine learning.
To indicate that you have actually taken the time to read this, please give your email the subject "Statistical Machine Learning." I will read all emails with this subject. Thanks!