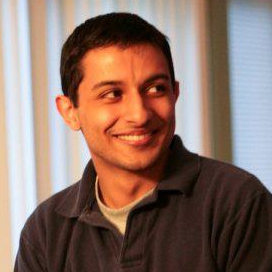 Education
Carnegie Mellon University
PhD, Computer Science

UIUC
BS, Computer Science
BS, Molecular & Cellular Biology
Advising
PhD Students
MS Students
Priya Thanneermalai
Hannah Potter
Erin Deutschman
Undergraduates
There are 20+ undergraduate reseachers in FP Lab — see the
FP Lab webpage
!
Former Advisees
FP Lab alum include 1 Assistant Professor, 5 PhD students, and 43 students who went on to MS programs or industry!
Recent Publications & Projects
Hazel: Live Functional Programming with Typed Holes
FP Lab is the academic home of Hazel, a new kind of live programming environment that can understand, manipulate, and run incomplete programs, i.e. programs with holes. The following publications develop the semantic foundations for Hazel.
These papers serve as the foundation for our ongoing research into the future of programming environments.

The
National Science Foundation
recently selected our research proposal for three years of funding.
Livelits: Filling Typed Holes with Live GUIs
We are working on integrating graphical and programmatic modes of interaction by developing language mechanisms that allow you to define type-specific user interfaces that generate code underneath, i.e. they serve as interactive graphical literal notation.
We have (1) implemented this mechanism for Java as an Eclipse extension called Graphite, (2) surveyed nearly 500 developers to empirically validate the mechanism and to gather a wide variety of use cases, (3) performed a small pilot study, (4) added support for spliced expressions, (5) added support for live programming, (6) mechanically formalized these features, and (7) implemented this live literal mechanism into Hazel.
Hazel Assistant: Integrative Foundations for Intelligent Programming Assistants
We are developing an intelligent programming assistant that synthesizes code satisfying specifications provided by human programmers in the form of types, tests, properties, and sketches, and guided by a learned understanding of idiomatic code.
To start with, we have developed the Smyth synthesizer, which adds support for sketching to Myth, a type-and-example directed synthesizer, by combining the live programming mechanisms from Hazel with a novel form of unevaluation, which propagates constraints to where they are relevant. This solves a long-standing problem: we no longer need trace-complete examples.
We are now working to scale up and integrate Smyth into the Hazel user interface, which requires considering the problems of interactivity, incrementality, and readability. Check out our first demo!
Relit: Reasonably Programmable Literal Notation
My thesis research developed mechanisms that allow library providers to express new type-specific literal notation (e.g. SQL literals) while ensuring that client programmers can still reason abstractly and compositionally about types and binding.
ECOOP 2014
Distinguished Paper Award
Relit implements the mechanism from the ICFP 2018 paper into Reason, which is Facebook's new front-end for OCaml. The Wyvern programming language implements the mechanism from the ECOOP 2014 paper.
Previous Publications & Projects
typy: Programmable Semantic Fragments
typy allows library providers to install new statically typed semantic fragments into Python, while leaving its syntax alone (which cleverly sidesteps the "expression problem"). We have applied typy to problems in web security and data science.
The
typy implementation
is quiet as I focus on my other projects, but if you want to take the lead, contact me!
SciUnit: Collaborative Infrastructure for Test-Driven Scientific Model Validation
One of the pillars of the scientific method is model validation: comparing a scientific model's predictions against empirical data. The SciUnit project casts this as a form of collaborative software testing and develops useful infrastructure.
My collaborators Rick Gerkin and Sharon Crook continue to develop and apply SciUnit as part of the
SciDash
project.
Neurobiological Circuit Dynamics
I entered grad school as a computational neurobiologist. I was interested in how biological circuits process information, so I developed a model of how the excitatory-inhibitory circuitry in the rodent whisker barrel cortex responds to stimulation.
I still find brains fascinating, but I think we will need more powerful computational tools to make the next leap in understanding, so now I study programming languages and programming environments!
Information Theoretic Foundations for Brain-Computer Interfaces
We built a provably optimal EEG-based brain-computer interface by studying the information theoretic properties of noisy asymmetric channels and developing statistical models of user intent for various types of communication/control tasks.
I remain very interested in building tools that help people with limited mobility and other disabilities express their intent. I also remain very interested in tastefully incorporating statistical models of user intent into programming environments.