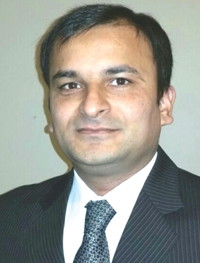 Afzaal Qamar
Postdoctoral Research Fellow
University of Michigan
EECS Department
Electrical & Computer Engineering
2216 EECS
Ann Arbor, MI 48109
Email:
Afzaal Qamar
Dr. Afzaal Qamar received the M.Sc. degree in applied physics from University of Engineering and Technology (UET), Lahore, in 2004; the M.Phil. degree in physics from Pakistan Institute of Engineering and Applied Sciences (PIEAS), Islamabad, in 2006, on a national competitive fellowship (he was one of the four students selected for this scholarship from all over the country); and the Ph.D. degree from Queensland Micro- and Nanotechnology Centre, Griffith University, Australia, on a competitive international scholarship (GUIPRS and GUPRS). He served as the Manager Technical for III-V semiconductor device fabrication at the Institute of Applied Technologies from 2008 to 2014. He also served as a Research Associate at Griffith University after his PhD. He received best oral presentation award in ICNNE-2016 held in Paris for presenting his research paper. He received publication assistance scholarship twice from Griffith University. He also participated in writing proposal for ARC linkage grant which was successful in 2017. He is currently serving as reviewer in  MDPI's Sensors, IET Micro Nano Letters and RSC Adavnces journals. He is currently a Research Fellow with the Department of Electrical Engineering and Computer Science, University of Michigan, USA. His research interests are thin films, MEMS/NEMS, piezoresisitve and piezoelectric properties of wide bandgap (SiC, AlN, GaN) semiconductors, resonators, and other acoustic MEMS devices for timing, RF and sensing applications. He has been co-author of over 40 peer-reviewed journal articles and conference papers with h-index of 11.